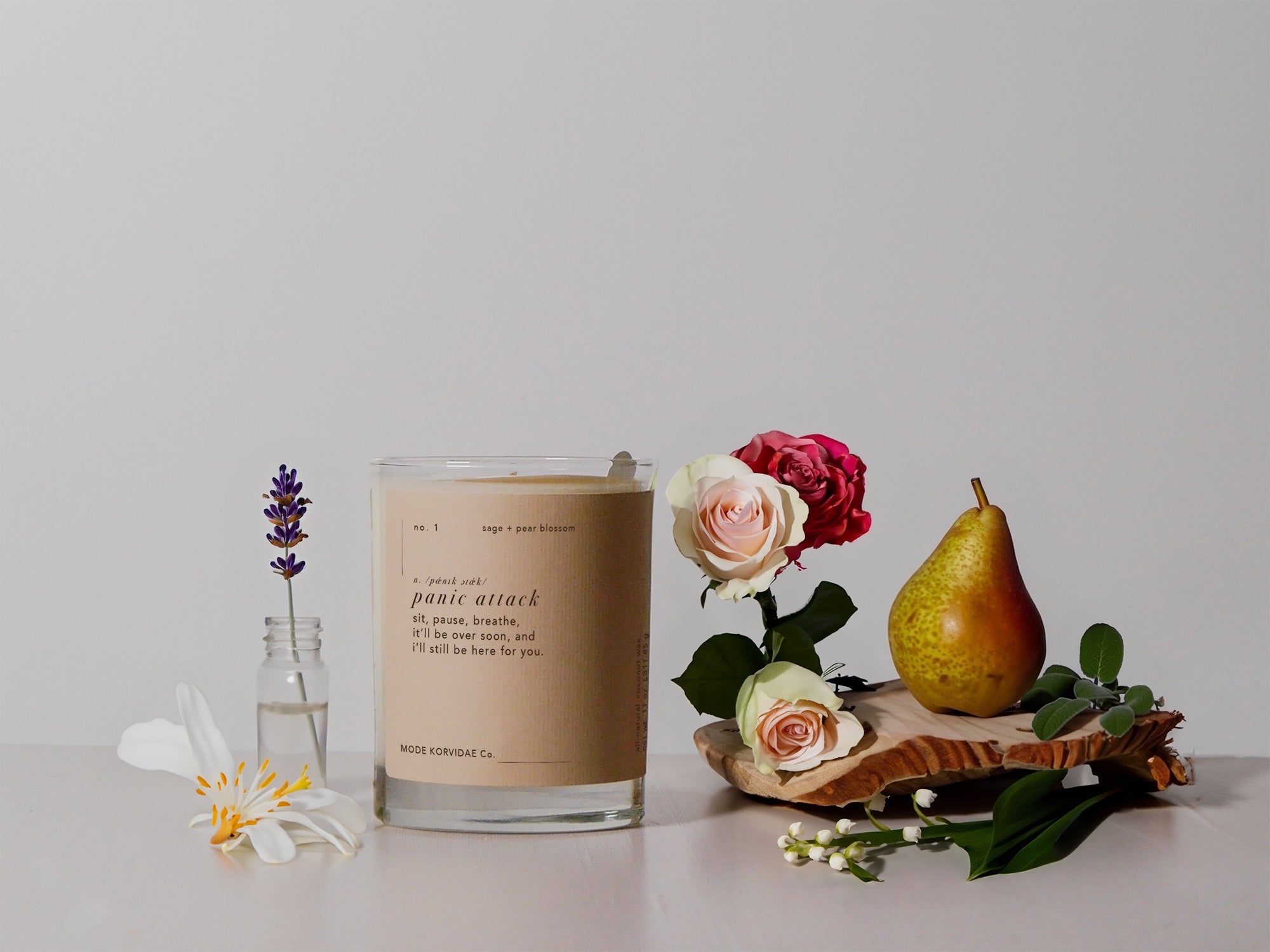 Description

Product Details

What are notes?
sage + pear blossom
[smoky, underripe, calming]
Top Notes: Pear, Green Tea, Rose
Heart Notes: Lavender, Orange Flower, Sage
Base Notes: Musk, Cedar, Lily Of The Valley
—
The panic attack candle is a powerful blend of smoky, crisp, and calming scents designed to provide refuge to those who struggle with Anxiety and Panic Disorder. This meticulously crafted candle offers a safe space to start the conversation about the depth of anxiety that affects so many individuals.

The haven created from the combination of space warmly welcomes vulnerability and openness to talk about feeling anxiety and panic attacks.  With top notes of pear, green tea, and rose, followed by heart notes of lavender, orange flower, and sage, this candle cultivates tranquility and relieves the burdens of anxiety. Anchored by base notes of musk, cedar, and lily of the valley, it instills a sense of calmness. 

This candle serves as more than just a delightful sensory experience; it serves as a symbol of empathy and understanding. It encourages others to open up about their struggles, take up the space they deserve, and lead the important conversations about anxiety we need to hear.
Join us in breaking down barriers and building a culture of empathy and understanding. Start the conversation with the panic attack candle, and let its calming presence remind you that you are not alone.

—
Made with natural coconut wax derived from sustainable and renewable sources




Cotton and paper-braided wicks, lead-free and zinc-free




Long-lasting, burn time of over 100 hours




Cleaner and slower burning than soy and paraffin wax




Vegan, cruelty-free, gluten-free, phthalate-free, paraben-free




Reusable elegant double-rocks whiskey glass container




Carefully poured and wicked to provide a consistent and even burn




Sets a warm and inviting ambiance, makes memorable moments, or presents a thoughtful and purposeful gift




Committed to sustainability and eco-conscious practices from the ingredients used to the production operations to packaging materials




Handcrafted with care, our candles may exhibit unique handmade inconsistencies and subtle blemishes, adding to their artisan charm and character




With each purchase, 10% of the proceeds go towards supporting a mutual aid fund, making a positive impact in communities that need it most



Our candles have been created with values of sustainability, safety, and performance in mind. 
We are continuously striving to make improvements on our products as we grow.
Non-toxic, clean-burning
Natural coconut wax blend
Cotton and paper-braided wick
11oz wax, 21oz total weight
90 hr burn time
3.5" wide x 4.125" tall
Reusable & recyclable glass
Cruelty-free, vegan, gluten-free, paraben-free, phthalate-free
Fragrances are typically composed of multiple scents, which are combined to create a more complex and interesting overall aroma. The different scents that make up a fragrance are referred to as "notes." There are three types of notes: top notes, heart notes, and base notes.
Top notes are the initial scents that you smell when you first apply a fragrance. They are typically lighter, fresher scents that evaporate quickly.
Heart notes are the scents that are more prominent once the top notes have evaporated.
Base notes are the scents that are most long-lasting in a fragrance. They are typically the heaviest and most complex scents, and they last the longest.
---
no. 1 panic attack candle
Shipping

Free shipping for orders over $50

Please allow 2-5 business days to process your order. This is a very small business operation where my mental health heavily impacts my ability to fulfill orders.

Once your order is processed, shipping typically takes 1-3 days. Please be aware that this timeframe is an estimate and may be subject to change. We will make every effort to ensure your order reaches you as promptly as possible.

Order tracking

Once your order has been processed and shipped, we will provide you with a unique tracking number. This number will allow you to monitor the progress of your shipment.

Please note that tracking information may take up to 24 hours to be updated by the shipping carrier.

Get in touch

Should you have any questions or concerns about your order during the tracking process, our customer service team is here to assist you. Feel free to reach out to us, and we'll be happy to provide any necessary support or clarification.

hello@modekorvidae.com
Introducing
Reed Diffusers
Now is the time to amplify your True Self with our high-quality Amplify Me Reed Diffuser. This natural diffuser blend combines the classic, calming scents of our True Self Collection to create an optimal and clean fragrance throw that will fill your home, office, or favorite space with tranquil aromas.